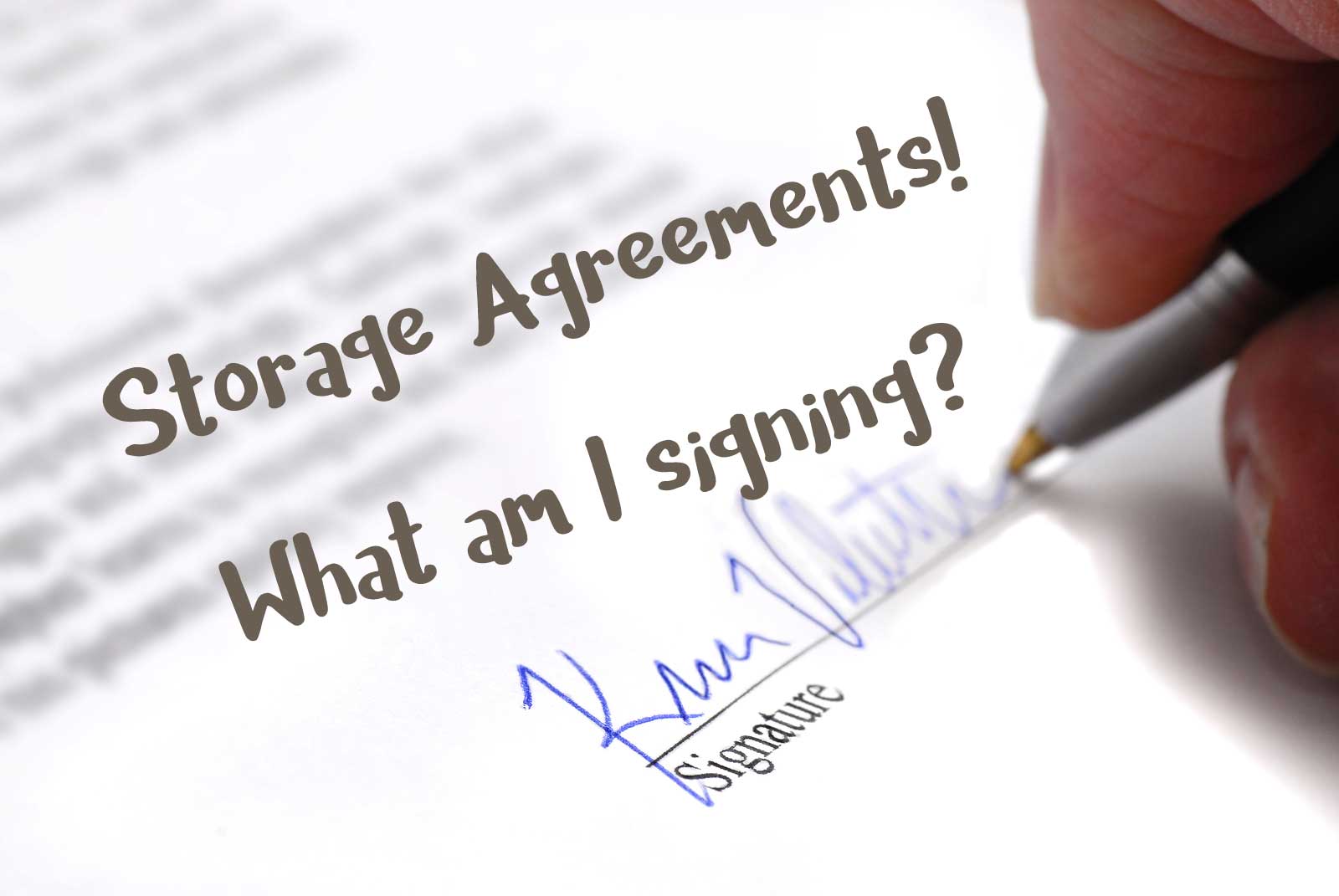 Importance of understanding Self Storage Agreements!
As Members of the Self Storage Association of Australasia all Storers at our Facility are required to agree and sign a Self Storage Agreement prior to storing their goods.
Whilst our team at Gold Coast Storage Co highlight and explain important details regarding the agreement with our patrons enabling them to understand the contract they are entering, ultimately it is the Storers responsibility to comprehend any contract they put their signature to.
Below we cover some important sections of Storage Agreements to consider before signing on the dotted line.
Storage fees?
Storage contracts will outline the amount of your monthly rental costs. Some facilities may offer weekly payment agreements however normally storage terms are every four weeks or per calendar month. If you are paying more than one month in advance make sure the contract details the total fee for the upfront period you are paying for. IE 6 months.
Administration fees?
Some Storage Facilities may charge a flat administration fee on top of the monthly storage fee. This is something to be wary of and can be the difference between a competitive monthly storage fee and an expensive one particularly if you require short term storage. Always enquire if administration fees are charged by the facility.
Cleaning Fees?
Are cleaning fees a mandatory charge or do they only apply if the unit has been left in a shambles?
Cleaning fees can also contribute to a unexpected increase to your storage fee if compulsory cleaning fees are charged, particularly if you have intentions of ensuring the storage unit is left in a spotless condition when you vacate.
Understandably if a storage unit has been left in a shambles or a generally unclean state it costs the Facility owner to bring it back to pristine condition and this charge is passed on to the Storer or the cost is deducted from their security bond.
At Gold Coast Storage Co we do not charge cleaning fees if the Storer has cleaned the unit on vacating. We provide complimentary cleaning equipment and inspect the unit once cleaned to ensure it is of the cleanliness standard we maintain at Gold Coast Storage Co.
What is the bond for!
Similar to renting almost anything, vehicles, real estate etc a security bond is usually a mandatory requirement at Self Storage Facilities. The bond may be one month's storage fee or a fixed amount.
The bond is held by the Facility owner and covers the Facility owner in the event the Storer damages the unit or defaults on payment. The bond is refunded to the Storer on termination pending storage fees are paid up to date, the unit is left clean and there is no damage to the unit or the Facility. A Facility may have up to 30 days to refund the bond. At Gold Coast Storage Co we refund patrons bonds immediately to their nominated bank account.
Additionally whilst storage fees attract a GST component, a security bond should not include any GST.
What you can and cannot store!
You are prohibited from storing any hazardous, dangerous, illegal, stolen, perishable, environmentally harmful or explosive goods in Storage. This includes such items as aerosol cans, flammable items such as petrol, or even such items as candle or citronella oils.
Click HERE to read more about Storage Fires to understand how perilous storing flammable items can be.
Have you been offered Storage Insurance!
If you are not offered storage insurance from the Facility you may need to think twice about the credibility of the business you are storing with. There is no reason as to why a reputable self storage Facility cannot offer you Storage Insurance.
Additionally unless items such as currency, jewellery, furs, deeds, paintings, curios, works of art and items of personal sentimental value or items worth more than $2000.00 in total are specifically itemised and covered by insurance these items cannot be stored as the Facility owner cannot guard against all risks and unforeseen circumstances beyond their control therefore it is important to consider storage insurance or store such goods in places specifically designed for the purpose, i.e. a safety deposit box.
It is not mandatory to insure your goods and if you choose not to you will be required to sign the agreement to that effect.
Notice period required to vacate!
The agreement you sign with the Facility may stipulate a period of notice required to terminate the agreement ie: 7, 14 or 30 days notice. It is important to understand the notice period required.
If you advise the Facility a date you will be vacating it is important to vacate on or before that date as the Facility will rent the unit to another patron.
It is also important to understand the Facility owner can also give you the same notice to vacate. For example let's say you advised the Facility your storage term would be for a period of 3 months and at the end of 3 months you had not vacated. The required termination notice is 7 days. Usually the Storage Agreement will be automatically extended until the required notice is provided by the Storer or the Facility owner. Most Facility owners are happy for clients to store as long as they like however it may be beneficial for the Facility owner to provide notice to a problem Storer, such as a Storer who is consistently late with their storage fees.
How problematic would it be if the Facility provided 7 days notice to vacate and you had to remove your goods and find another Facility! This could prove not only inconvenient but also costly to the Storer.
Late Payment Fees!
A Storage Agreement will usually detail the late payment fee when fees are not paid on the due date. It should also detail any additional fees such as bank fees for returned cheques or a failed direct debit. These could be a fixed amount or a percentage of the monthly fee and payable if you are as little as 1 day late!
Some facilities are very strict with late payment fees and no excuse whatsoever will waive the late fee. It is also usual procedure for the facility to provide notice that access to your storage unit is denied (or double locked) until payment is made.
Smaller self storage businesses such as Gold Coast Storage Co may be more lenient if you explain valid reasons for the late payment or provide a heads up you will be late with your fees, however a line is drawn with consistently late payers that abuse their responsibility and late fees will become payable.
It is important to understand the late payment fees detailed in the Storage Agreement and diarise the date your fees are due. The Facility owner has their own responsibilities to pay their business operating expenses on the due date so it is the Storers responsibility to do the same plus you do not want to find yourself in a situation where you are denied access to your goods and the Facility chooses to terminate your Storage Agreement.
What happens when you stop paying your storage fees!
A Storage Agreement will detail in the fine print procedures when a storer defaults. Whilst it is the last thing a storage Facility wants to do, as in selling up or disposing of a Storers goods, unfortunately if payment has not been received after persistent contact, written communications and fees are 28-42 days in arrears, it becomes the only option the Facility has if they have been unsuccessful in contacting the Storer or the Storers alternate contact person.
It is very important to advise the Facility of any change of contact details (address, phone no/s and email address/s) including contact details of an alternate contact person.
The Facility will also attempt to contact the alternate contact person who has the opportunity to pay the outstanding fees on behalf of the Storer. If the alternate contact person does not know the whereabouts of the Storer they can take possession of the stored goods if they pay the outstanding fees to avoid the Facility owner from selling or disposing of the goods.
Understandably unfortunate situations can occur in life and if Storers are having issues paying their storage fees it is important they communicate with the Facility and make attempts to pay off their fees, rather than the alternative of losing their valuable goods which could be the only option.
Be a Savvy Storer and understand your Storage Agreement obligations!
---