Top Notch Removalists - The Rite Move!
Following on from our article on the 13th June 16, another of our super favourite owner operator Removalists is Sinjun Smith proprietor of "The Rite Move".
Sinjun has been a professional Furniture Removalist for over 20 years and his assistant Brad Jones has been his "offsider" for 12 years. Now that is certainly an achievement!
Sinjun and Brad can do just about everything. They can dismantle and assemble any type of furniture, they can pre-pack and unpack and guarantee a hassle-free and satisfying experience.
And that is exactly what clients of Gold Coast Storage Co say about these two super chaps.
For the DIY packers Sinjun offers competitive removal rates and amazing prices for packing boxes. Tea Chest size is $2.95 ea and Book Boxes only $1.95 ea with a minimum order of 10 boxes and he will deliver them to you free of charge when you confirm your removal booking. He can also supply mattress covers, packing paper, tape and bubble wrap.
An added bonus is Sinjun charges from Door to Door in the Gold Coast region and not Depot to Depot. What does that mean? The time starts from when they get to your door and when they finish the job at your new home or at your Gold Coast Storage ® facility. Yes... no travelling time to or from their base or depot. Now that's a great saving!
If you are moving to or from areas outside of the Gold Coast Region, like all removalists a drive time charge does apply.
Sinjun and Brad have been at our Gold Coast Storage ® facility many times and they are just a delightful duo. Nothing is a problem and they get stuck into the job at hand, meticulously packing and stacking goods into our Gold Coast Storage containers or back into their mighty vehicle!
As you can see they are as fit as fiddles, dressed for the job with the right attire and footwear, and those smiles stay with them throughout their long hard working days.
Going back in history to our days operating a furniture removal business our vehicles had ramps and as you can see via the image below, Sinjun's vehicle has a ramp that attaches to the back of his vehicle.
Many removalists trucks have hydraulic tail gates and I fail to see the advantage of having them.
It is far quicker for removalists to use a ramp to carry or trolley items from and to the vehicle, thus saving valuable $$$ in overall removal costs.
When using a hydraulic tail gate the goods first go onto the tail gate and then using a remote control the gate then lifts the goods down to ground or back up to the vehicle. The process is considerably longer than using a ramp. For example it would take little more than about 1 minute to trolley a fridge down a ramp, however to bring it down by the tail gate lift, the process would be about 5 minutes. Those minutes can sure add up!
It may be potentially easier for the DIY mover to hire a vehicle with a hydraulic tail gate however if you are paying by the hour for a removalist you will find they get the job done a lot quicker if they use a ramp.
Sinjun Smith and Brad Jones - The Rite Move! Top notch Gold Coast Furniture Removalist in constant demand and preferred removalists of Gold Coast Storage Co!
So get in quick and call 0409 176 426 to secure your booking. You won't be disappointed!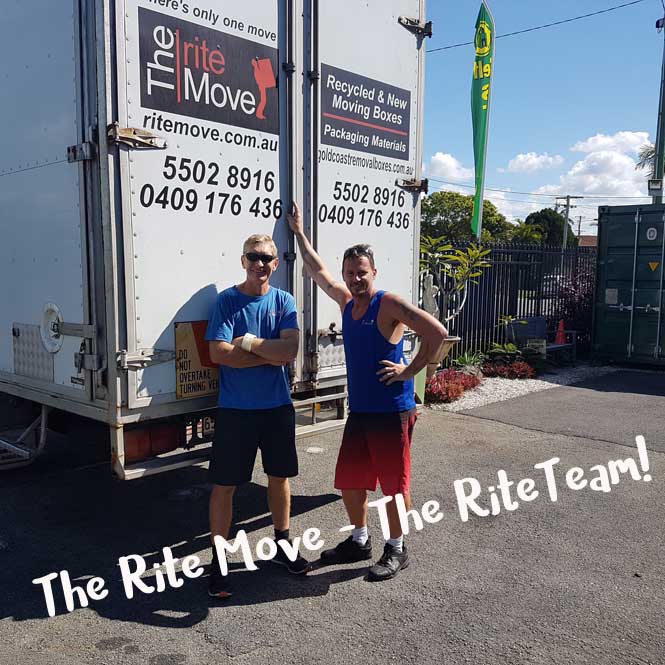 ---